ReStore Donations
Our ReStore accepts donations of appliances, furniture, building materials, household goods and more from individuals and companies. Donations can be new or used, but all items must be in good repair and in saleable condition. To check if your donation is accepted please call at (906) 774-2867. ReStore staff will make the final decision on all donations.
At this time we are not taking TV's, computer equipment, box springs, and mattresses. We are sorry for any inconvenience.
We accept donations via two methods - drop offs and pick ups.
Drop Offs
Donations can be dropped off at either store during normal business hours.
Pick Ups
If the donation is large or you can't drop it off at the store we offer free pick ups. Pick-ups for the Kingsford store are done on Tuesdays and Thursdays from 9-1. Pick-ups in Iron River are done on Tuesdays 8 until noon.
To schedule a pick up please call (906) 774-2867 for the Kingsford store or (906) 214-5005 for the Iron River store.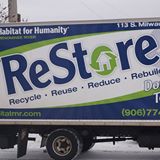 DONATE ONLINE
Habitat Office
113 S Milwaukee Ave
Kingsford, MI 49802
(906) 779-5377
hfh@habitatmr.com
ReStore Kingsford
113 S Milwaukee Ave
Kingsford, MI 49802
(906) 774-2867
Tues - Fri 9-4
Sat 9-3
Closed Sun-Mon
ReStore Iron River
211 West Maple St
Iron River, MI 49935
(906) 214-5005
Tues - Fri 9-4
Sat 9-3
Closed Sun-Mon

restore@habitatmr.com